Michael L. Trujillo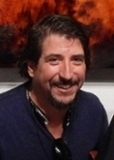 Contact
Office: Humanities 438
mltruj@unm.edu

Associate Professor of American Studies and Chicana and Chicano Studies

Education: PhD, University of Texas

---
Research Interest
Ethnography, Chicana/o Cultural Studies, Representation, and Southwest Studies

Michael Trujillo is an associate professor of American Studies and Chicana/o Studies. His research contributes to the larger interdisciplinary effort to move beyond the exclusionary and exceptional notions of the American nation that can no longer be justified in our interconnected world. His research utilizes the theoretical and methodological approaches of critical regionalism, cultural interpretation, and post-Marxist perspectives. His research sites include the northern New Mexican community of Española and US-Mexico border city of Juárez. In both locations, he tracks cultural forms and ethnographic representations through diverse regional and national discourses.
 
Michael's prior research in New Mexico culminated in the book The Land of Disenchantment: Latina/o Identities and Transformations in Northern New Mexico (2009). Related articles were published in Aztlán: A Journal of Chicano Studies, Oxford Bibliographies, and Cultural Dynamics (2006). UCLA's Chicano Studies Research the US-Mexico borderlands. He is currently writing two different books. The first considers the relationship between regional and transnational or global scales of analysis in American Studies as well as the relationship between New Mexico and Latin America. This book, tentatively titled Dialectical Americas: American Studies and Compelling Symmetries in New Mexican and Latin American, consists of a series of case studies of New Mexican cultural assemblages and symmetric phenomena in Latin America. The second book, tentatively titled City of Violence: Ciudad Juárez in the Mexican and American Imagination after 1993.
Michael's work brings perspectives drawn from anthropological ethnography, Chicana/o studies, and US-Mexican border studies to bear on American Studies. His current research builds upon his previous work on Chicana/o identity and national notions of identity and race. A key component of this research is the construction of an ethnographic methodology and writing style appropriate for representing emerging American and Mexican-American experiences. He has received fellowships at the University of Texas, Colorado College Center for Southwest Studies, and School for Advanced Research in Santa Fe.
---
Selected Publications
Books:
The Land of Disenchantment: Latino Identities, Negations, and Transformations in Northern New Mexico

. 2009. University of New Mexico Press.
Selected Articles:
Selected Book Reviews:
Transforming Images: New Mexican Santos In-Between Worlds

, edited by Claire Farago and Donna Pierce. 2009.

Museum Anthropology

 32(1):72-74.

The Borderlands of Culture: Américo Paredes and the Transnational Imaginary

, by Ramón Saldívar, and 

The Legacy of Américo Paredes

, by José R. López Morín. 2009. 

Journal of American Folklore

. 122(484): 243-245.

Brown-Eyed Children of the Sun: Lessons from the Chicano Movement, 1965-1975

, by George Mariscal. 2006.

Southern California Quarterly

 88(2):253-254.

Mestizaje: Critical Uses of Race in Chicano Culture

, by Rafael Pérez-Torres. 2006. 

Cultural Dynamics

. 18 (3):354-357.
Reports: 
(with Cathleen E. Willging and W. Azul La Luz) "Ethnography of Drug Use and Barriers to Care in the Española Valley of New Mexico." 2004. New Mexico Epidemiology Report. 2004(5):1-7.