Tania Garcia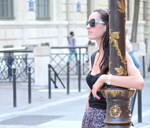 Tania García is currently a Doctor of Philosophy candidate in American Studies at the University of New Mexico researching literary and photographic hauntings along the borderlands of northern New Mexico and southern Colorado as a dimension of Southwest Studies. Along with having taught undergraduate courses in American Studies at UNM such as Introduction to Southwest Studies and Introduction to Race, Class, and Ethnicity, Tania holds a doctoral dissertation research fellowship at UNM's Center for Regional Studies.
 Tania holds a Master of Art's degree from American Studies at the University of New Mexico. Her MA thesis is entitled Transnational Perspectives of Authenticity, Representation, and Expressions of Jewish Women's and Children's Holocaust Narratives. Areas of study that continue to interest her include Transnational American Studies, Critical Trauma Studies, Visual Culture, Popular Culture, World Cinema, Black Transnationalism, Jewish and African Diaspora Studies, Genocide Studies, Native Hawaiian Literature, Southwest Studies, and American Jewish Literature.
 While in both the MA and PhD programs in American Studies at UNM, Tania has researched comparative and cross-cultural topics such as Spanish National Cinema in a transnational context, Chicano/a, Native American, Asian American, and Native Hawaiian artistic expression as active resistance to U.S. imperialism and colonialism, and Maori film and literature from a trans-indigenous perspective.