Tania Garcia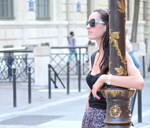 Tania García holds a B.A. in English (Philosophy minor) from UNM and is currently in her third year of the UNM American Studies MA Program.  Areas of study that interest her include Transnational American Studies, Visual Culture, and Popular Culture, World Cinema, Black Transnationalism, Jewish and African Diaspora Studies, Genocide Studies, Native Hawaiian Literature, and American Jewish Literature.
While in American Studies at UNM, Tania has researched and written on comparative and cross-cultural topics such as Spanish National Cinema in a transnational context, Chicano, Native American, Asian American, and Native Hawaiian artistic expression as active resistance to U.S. imperialism and colonialism, and Maori film and literature from a trans-indigenous perspective.  In connection with Tania's interest in exploring her Hispano heritage and Sephardic Jewish ancestry, she is researching the history of Crypto-Jews in New Mexico and southern Colorado as a dimension of Southwest Studies.
While taking a course taught by Distinguished Professor of American Studies Gerald Vizenor entitled "Narratives of Atrocity and Genocide," Tania learned about the complex relationship between the U.S. government and genocide while studying the narrative conventions utilized by Holocaust survivors to reconstruct their experiences for readers.  She thereby developed an interest in researching the experiences, stories, and visual memory of child survivors of internment camps in Paris and in Nazi concentration camps across Europe.  During the Summer of 2012, Tania conducted research in Paris at the Mémorial de la Shoah in Le Marais for her MA Thesis.  The subject of her MA Thesis expands her work in Holocaust Studies within American Studies by performing an analysis of Jewish women and children's Holocaust literary narratives within a transnational context.