Naomi Ambriz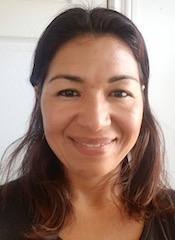 Naomi Ambriz is a PhD student in American Studies. Her research interests center on the intersections of Afrodescendants racial formations, critical race and ethnicity, and transnational feminisms. More specifically, her research investigates Afro-Latino/as racial identities in the U.S. Southwest, Mexico, and Cuba. Naomi has taught various courses in American Studies and Chicana and Chicano Studies at UNM and CNM. Naomi is also the Graduate Student Parent Advocate with the Women's Resource Center (WRC) at UNM. In this role, she closely works with the UNM Children's Campus and Lobo Parenting Cubs to make UNM a more family-friendly campus and help visibilize resources for student-parents.
Selected Publications
Ambriz, Naomi and Correia, David. (2017) Conversations in Environmental Justice: An Interview with Julie Sze. Capitalism, Nature Socialism. Vol. 28, No. 2, 54-63.
Courses Taught
AMST 186

AMST 1140

AMST 1150

AMST 385

CCS 201

CCS 330
Contact
she/her