Michaela Paulette Shirley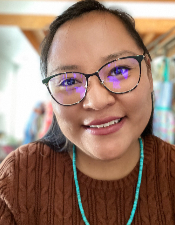 Michaela Paulette Shirley (Diné), MCRP, is Water Edge clan, born for Bitter Water clan, her maternal grandpa is Salt clan, and her paternal grandpa is Coyote Pass clan. Michaela grew up in Kin Dah Lichii in northeastern Arizona on the Navajo reservation. Several of her summers were spent at sheep camp in the mountain with her paternal grandma Isabelle Shirley. At sheep camp, Michaela contemplated the important Diné values of sheep, family, community, the land, and education. She received her bachelor's in urban planning from Arizona State University, and a master's in community and regional planning from the University of New Mexico. Michaela's background is in urban planning, community development, and Indigenous planning, with research interests in Indigenous planning/design, community-school relationships, biographies of landscape, Diné studies, Latin American studies, critical indigenous studies, critical regional studies, and hemispheric Indigenous comparative studies between US and Latin American. She is a part-time PhD student in the UNM American Studies program. Michaela is a program manager for the Indigenous Design and Planning Institute at UNM. She plans and coordinates the development and implementation of sub-programs, special projects, and other initiatives to achieve the overall mission of iD+Pi. Michaela oversees the day-to-day operations of the various iD+Pi programs and activities. She serves as a primary liaison for the iD+Pi and represents the University with respect to program activities on a local, regional, national, and international basis.
Selected Publications
Jojola, T. & Shirley, M. (forthcoming). "Indigenous Planning Youth Engagement Practices in Rural Place-based Indigenous Communities." Routledge Press focusing on Professional Awareness and Diversity Challenges in Planning Education.

Shirley, M. (forthcoming). "A history of community development through local schools in Kin Dah Lichii". Contemporary Indigenous Architecture: Local Traditions, Global Winds Memory and Architecture. University of New Mexico Press.

Shirley, M. & Jackson, K. (forthcoming). ""Shí Yázhí "there is money underneath your fingers": A Hózhó-centered Arts Management Framework." Chapter in Et Al.: New Voices in Arts Management. University of Illinois Open Publishing Network (IOPN).

Shirley, M. & Blackgoat, G. (2020). "Letters on the Future of Indigenous Design." Essay in Southwest Contemporary. https://southwestcontemporary.com/future-of-indigenous-design/
Jojola, T. & Shirley, M. (2020). "Seven Generations: A Role for Artists in Zuni PlaceKnowing." The Routledge Handbook of Placemaking. Routledge Press.
De Rosa, E., Jojola, T., and Shirley, M. (2018) "A Living Archive of Urban Indians." Visit ABQ Blog Post.
Jojola, T. & Shirley, M. (2017). "Indigenous Planning: Replanting the Roots of Resistance". The Routledge Handbook of Community Development: Perspectives from Around the Globe. Routledge Press.
Jojola, T. and Shirley, M. (2016). "UNM's Indigenous Design and Planning Institute Forges Its Role in Placemaking." Green Fire Times.
Courses Taught
Instructor of Record of CRP 165, online (2012) Community and Regional Planning Department School of Architecture and Planning University of New Mexico
Contact
she/her/hers