Elspeth Iralu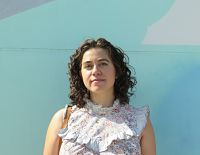 ELSPETH IRALU (Angami Naga) is a cultural studies scholar working at the intersection of transnational American studies and Indigenous geographies. She is a PhD candidate in American studies at the University of New Mexico.
Iralu's current work examines the spatial surveillance of Indigenous peoples, nations, and territories in the twenty-first century to interrogate how spatial methods of counterinsurgent warfare operate as technologies of territoriality against Indigenous nations. She is co-founder of the Critical Environmental Justice Collective at the University of New Mexico and teaches undergraduate courses on environmental and social justice, southwest studies, and decolonial politics.
Iralu holds an MPH in community health promotion from the University of Minnesota, an MA in secondary teaching from Western New Mexico University, and a BS in geology from The University of the South.
Iralu's work has been generously supported by the New Mexico Higher Education Department, the Naga American Foundation, the Interdisciplinary Center for the Study of Global Change, and the Global Programs and Strategy Alliance at the University of Minnesota.
Email: iralu@unm.edu
Website: www.elspethiralu.com