Rebecca Schreiber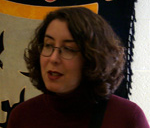 Contact
Office: Humanities 426
rschreib@unm.edu

Professor of American Studies

Education: PhD, Yale University

---
Research Interest
Visual Culture Studies, Cultural Theory/Studies, Transnational Migration in the Americas

My research focuses on issues of migration between the United States and Mexico and considers relations to place, identity and dislocation through forms of visual culture.
My current book project Migrant Lives and the Promise of Documentation examines contemporary immigration issues in the United States through forms of visual representations, as issues of visibility are key terrain for contemporary politics of immigration. Specifically, in this book I explore how Mexican and Central American migrants and immigrants have depicted themselves and their communities through documentary photography and film/video. Some of these works could be considered journalistic, while others are directed towards an art audience. One of the areas that I am interested in interrogating is the choice of documentary modes in the self-representation of Mexican and Central American migrants and new immigrants in the United States. My essay "Visible Frictions: Documentary and Self-Representation in the U.S.-Mexico Borderlands," will appear inUS/Mexico Border Spaces: Arts, Built Environments, and Landscapes, edited by Katherine Morrissey and John-Michael Warner. (University of Arizona Press, forthcoming).
My first book Cold War Exiles in Mexico: U.S. Dissidents and the Culture of Critical Resistance(University of Minnesota Press, 2008) studies the Cold War as a political and cultural project that marginalized and forced into exile left-wing artists, writers and filmmakers from the United States. I argue that for these exiles, collaborations with artists and filmmakers in Mexico, as well as their financial isolation from the culture industries contributed to the formation of a culture of critical resistance. My central argument is that this culture of resistance articulated an expressly "critical transnationalist" perspective in both its form and content.  The work of the U.S. exiles challenged U.S. Cold War nationalism, as well as the presumptions and consequences of American exceptionalist ideology by focusing on forms of political exclusion and racialization advanced by U.S. policies and everyday cultural politics. Working collaboratively with Mexican nationals, European exiles or independently, the U.S. exiles also explicitly addressed the political-economic context of Mexico, Mexican nationalism, and Mexican cultural production. I examine the ways in which the work of the U.S. exiles in Mexico critically engaged both the global reach of the United States and the domestic consequences of the Cold War.   Their work provided not only a vital counterpoint to the cultural and political norms of early Cold War America, but also demonstrated the resilience of oppositional cultural production in response to protracted state repression.
My recent publications include: "Confronting Regimes of Legality in 'Sanctuary City/Ciudad Santuario, 1989-2009,'" Radical History Review "Calling the Law into Question: Confronting the Illegal and Illicit in Public Arenas," Issue 113 (Spring 2012). "Dislocations of Cold War Cultures: Exile, Transnationalism, and the Politics of Form," in Sandhya Shukla and Heidi Tinsman, eds.,Imagining Our Americas: Toward a Transnational Frame (Duke University Press, 2007);"Resort to Exile: Willard Motley's Writings on Postwar U.S. Tourism in Mexico," in Nicholas Bloom, ed.,Adventures into Mexico: American Tourism Beyond the Border (Rowman and Littlefield Press, Scholarly Resources Books Division, Jaguar Series on Latin America, 2006);  and "The Labors of Looking: Unseenamerica and the Visual Economy of Work," American Quarterly Volume 56, Number 4 (December 2004).
---
Teaching
Undergraduate courses:
American Studies 285: American Life and Thought: Work in America
American Studies 310: The Making of American Culture
American Studies 342: Television and American Culture
American Studies 385: Theory and Methods of American Studies
American Studies 485: Senior Seminar in U.S. Culture
Graduate courses:
American Studies 500: American Culture Studies
American Studies 510: Race, Class, and Gender in the Culture Industry
American Studies 512: Transnational American Studies
American Studies 517: The Politics of Visual Culture
American Studies 519: Migration/Immigration