Amy L. Brandzel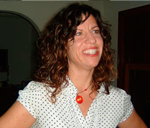 Contact
Office: Humanities 454
brandzel@unm.edu

Associate Professor of American Studies and Women, Gender & Sexuality Studies

Education: PhD, University of Minnesota
Professional Website

---
Research Interest
Queer Theory, Feminist Theory, Critical Indigenous Studies, Legal Studies, Citizenship

I serve as a joint-appointed Associate Professor of American Studies and Women Studies at the University of New Mexico, and received my PhD in Feminist Studies with a minor in History from the University of Minnesota. I am an interdisciplinary scholar working within the disciplines of American Studies, Women's Studies, and LGBT/Queer Studies. While I am most readily identified as a queer theorist, and was hired at the University of New Mexico to focus on gender and sexuality, my teaching and research is avowedly intersectional in that it utilizes and intervenes in queer, feminist, postcolonial, critical Indigenous, and critical race theories of subject-formations, institutional power, and coalitional resistance for marginalized and abjected communities. In particular, I utilize rhetorical, historical, cultural, and discourse analysis of legal cases, popular culture, and academic scholarship, in order to examine the relationship between hegemonic epistemologies and normative identities and how these function in law, citizenship, culture, and in academe.
My first book, Against Citizenship: The Violence of the Normative (University of Illinois Press, 2016) brings together a diverse set of political and legal debates, namely same-sex marriage, hate crime legislation, and anti-racist and decolonial activism in Hawaiʻi, in order to showcase the sheer resistance by the U.S. institutions to recognize or even consider the mutual processes of settler colonialism, racism, sexism and heterosexism. Merging feminist, postcolonial, decolonial, and queer theories, the book demonstrates how the U.S. nation-state requires anti-intersectionality – that is, strategies that deny the mutuality and contingency of race, class, gender, sexuality and nation – and how, oftentimes, progressive left activists and scholars follow suit. The agenda, in the end, is to reorient queer practice by directing it against citizenship, showcasing how to denaturalize and make strange (i.e. queer) the perpetuation of racial, sexual, gender, and colonial normativities that are integral to U.S. narratives of democracy and empire.
My second book project, tentatively titled Queer Knowledge: The Law of Difference in Academe, further explores how academic institutions engage with and address issues of power, identity, and constructions of difference. Merging scholarship in critical university studies with interrogations of field formations across Critical Ethnic Studies, Feminist Studies, Queer Studies, and Critical Indigenous Studies, Queer Knowledge analyzes how diversity, difference, and complex subjectivities are produced, managed, and disciplined within academic institutions.