Maria Lopez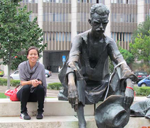 Maria is a PhD student in the American Studies program. Born in Texcoco, Mexico and raised in the state of Oaxaca in southern Mexico, Maria had the opportunity to experience diverse customs and ethnic practices. Growing up in both an urban setting and in rural communities, Maria had the opportunity to experience the everyday lives of indigenous communities as well as the complex racial dynamics that characterize Mexico's realities of social and economic inequality. At the age of 21, Maria moved to El Paso, Texas, although her experience in this border city was quite challenging, the contradiction and dilemmas contained in this onerous space have shaped her life and research interests. She received her master's degree from the University of Texas in El Paso Department of History, and her bachelor's degree from the same university with a double major in Anthropology and Political Science.
She has worked in non-profit organizations such as the Border Agricultural Farmworker Center and La Mujer Obrera, a non-profit organization that works with women factory-workers displaced by NAFTA. On November 2006, she was elected to represent the Frente Estudiantil Fronterizo (Student Border Front) in addressing Zapatista leader Subcomandante Marcos during his visit to Ciudad Juarez. For close to four years, she worked as coordinator of one of the first community museums in El Paso, Texas: Museo Mayachen. The results of this work consist of three permanent exhibitions titled El Projecto Bracero, Chicano@ Power! The Legacy of the Chicano Movement in El Paso, and Women in the Garment industry of El Paso. Her master's thesis was focused on the criminalization of juveniles in El Paso, Texas during the Chicano Movement, from which she has developed a special interest in tracing the history of criminalization of Mexican and Mexican Americans in United States. While working on her master's degree, she participated as coordinator of community outreach for the project Museo Urbano: An Outdoor/Indoor Exhibit of El Paso's History, a community museum developed by the University of Texas at El Paso's Department of History along with students and community, which won the Outstanding Public History Award on 2013.
Her research interests are now expanding into new ways of conceptualizing the U.S- Mexico Border as a site of struggle in which the historical reproduction of social death has generated alternatives to confront the effects of neo-colonialism, capitalism and nation-state sovereignties. Aside from being a graduate student and instructor, Maria collaborates as translator of Niu Matat Napawika (Women Working Together), a nonprofit organization that acts as a bridge between social enterprises formed by indigenous artisan women and the global market.