Trudie Jackson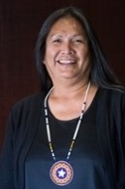 Trudie Jackson, an enrolled member of Navajo Nation from Teec Nos Pos, Arizona.  Her Clans are Bitterwater and Folded Arms People and paternal is the Mexican People and maternal is Yucca Strung Out In A Line.  Trudie identifies as a Fifth Gender person.
Trudie is currently a 1st year doctoral student in American Studies at the University of New Mexico.  She obtained her master degree in American Indian Studies with an emphasis in Tribal Leadership & Governance and a Graduate Certificate in Gender Studies.  She obtained her dual undergraduate degrees in American Indian Studies and Public Service Public Policy and a Certificate in Public Administration & Public Management and Leadership & Ethics.  All her degrees and certificates are from Arizona State University.        
Trudie's research emphasize on the impact of Settler Colonialism, Decolonization, Indigenous Two Spirit Critique, Feminism, Queer Theory, and using the Peoplehood Model.  Her research focuses on American Indian Transgender Women in Survival Sex Work by incorporating culture, traditions, and language into her research.  Some other factors include homelessness, substance abuse, incarceration, discrimination, stigma, violence, and mental health.
Trudie's passion in social justice addresses inclusion and diversity of Transgender Women of Color.   Former member of the Southwest Indigenous Women Coalition – LGBT Community Advisory Council and former member of the Maricopa Community College District – LGBT Community Advisory Board and Native PFLAG Phoenix. Currently a member of the Transgender Professional Association on Transgender Health (TPATH) Leadership team and a board member for the Transgender Resource Center of New Mexico (TGRCNM).