A. Gabriel Melendez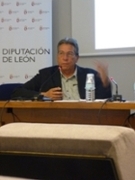 Contact
Office: Humanities 432
gabriel@unm.edu

Professor of American Studies

Education: PhD, University of New Mexico

---
Research Interest
Race, Class, Ethnicity, Critical Regionalism and Southwest Studies, Cinema Studies, life narrative and Cultural Studies

A. Gabriel Meléndez is the former Chair of American Studies at the University of New Mexico. After receiving the doctorate from the University of New Mexico in 1984, he taught at the University of Utah in Salt Lake City, UT and at Mills College in Oakland, CA before returning to Albuquerque on a Rockefeller Humanities Fellowship at the Southwest Hispanic Research Institute (UNM) in 1991. He joined the faculty in American Studies in 1994.
Meléndez is a literary, social and cultural critic with research interests in ethnic and cultural representations in film, autobiography, ethnopoetics and ethnocritical theory. His books include Hidden Chicano Cinema: Film Dramas in the Borderlands (Rutgers, 2013); The Writings of Eusebio Chacon (UNM, 2012); The Biography of Casimiro Barela (UNM, 2003); and So All is Not Lost: The Poetics of Print in Nuevomexicano Communities, 1836-1958 (UNM, 1997; reprint Arizona, 2005). In addition, he is co-editor of The Multicultural Southwest: A Reader (Arizona, 2001) and Recovering the U.S. Hispanic Literary Heritage: Volume VI (2006), and Santa Fe Nativa: A Collection of Nuevomexicano Writing (UNM, 2010).
Meléndez is on the board of directors of the Recovering the U.S. Hispanic Literary Heritage Project, serves on the editorial board of Aztlán: A Journal of Chicano Studies, and Chiricú Journal of Latino/a Literatures, Arts and Culture. He is a general editor for the Pasó por aquí Series on New Mexican Hispanic Letters at UNM Press. He is also a contributing member to the National Digital Newspaper Program Advisory Committee based at Zimmerman Library.
He has been the recipient of a Rockefeller Humanities Fellowship and several other research grants. In 2014 he was awarded a Fulbright Senior Teaching Fellowship to Eszterházy Károly College in Hungary where he taught classes on the Latino experience in the United States.