Antonio T. Tiongson, Jr.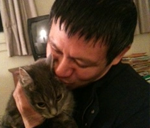 Contact
Office: Humanities 450
ationgson@unm.edu

Associate Professor of American Studies

Education: PhD, UC San Diego

---
Research Interest
Comparative Racialization, Hip Hop, Contemporary Youth Activism, Youth Cultural Politics, and U.S. imperialism

Antonio T. Tiongson Jr. is an Associate Professor of American Studies at University of New Mexico.  He is co-editor of the anthology, 
Positively No Filipinos Allowed: Building Communities and Discourse
 (2006).  His research interests include youth cultural politics, comparative racializations, and empire.  He is in the process of completing his manuscript entitled 
Claiming Hip Hop: Authenticity Debates, Filipino DJs, and Contemporary U.S. Racial and Global Diasporic Formations
 to be published by the University of Minnesota Press. His next two projects are a critical engagement with the comparative turn in the study of race and ethnicity and mapping the contours of contemporary youth activism.